Falling Film Evaporator – Industrial Scale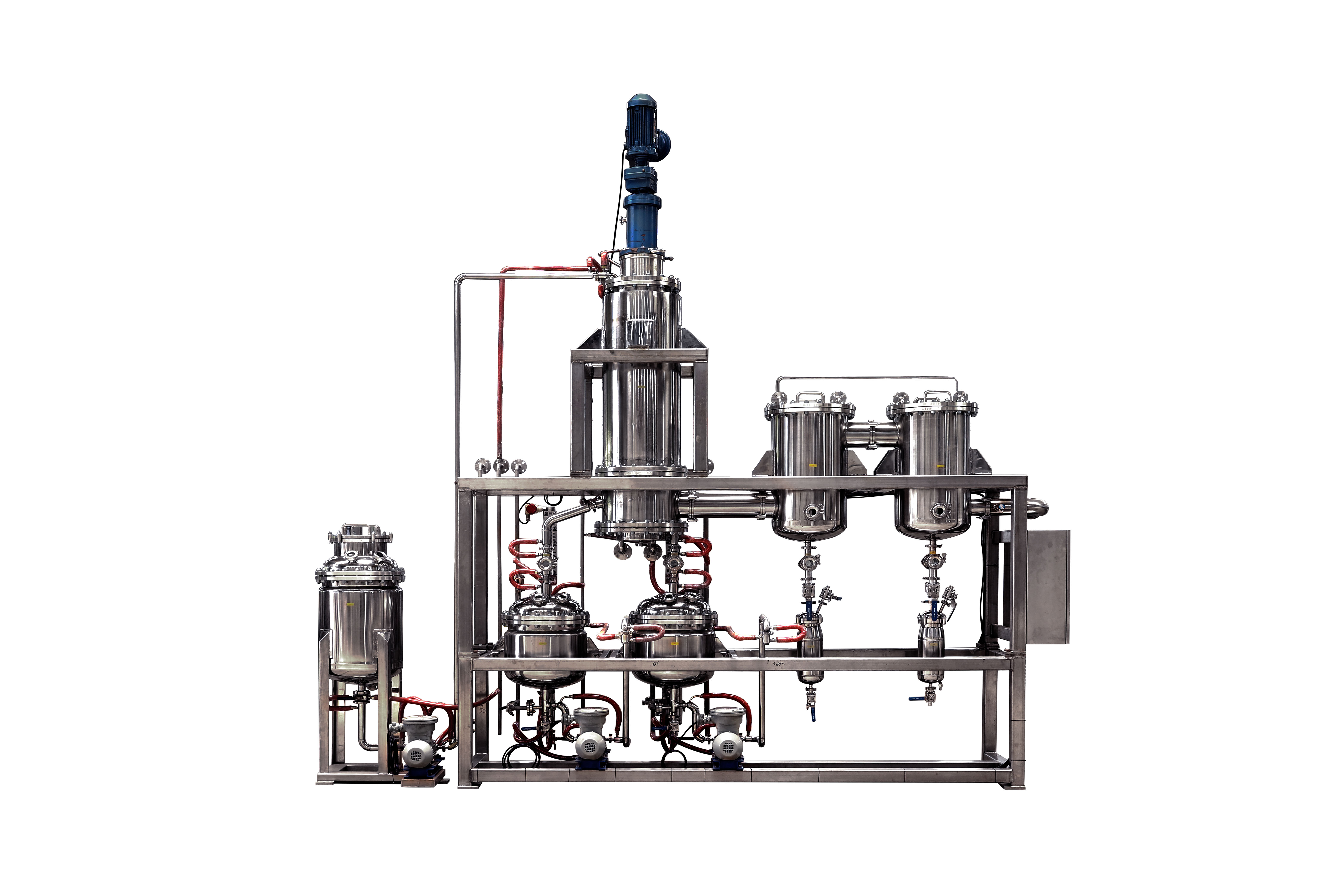 Industrial Wiped Film Distillation System Introduction
Our Scientific is offering a turnkey solution for industrial-scale wiped film (molecular) distillation systems with 1m², 2m², 3m², or larger evaporation surface area, capable of distilling more than 100L/hr crude oil.
The standard one stage wiped film (molecular) distillation system can be customized to multi-stages according to customer's requirements.
Larger throughput, up to 200kg/hr.

SS316L design, durable in use.

Short residence time and uniform heating

Automatic and continuous distillation process.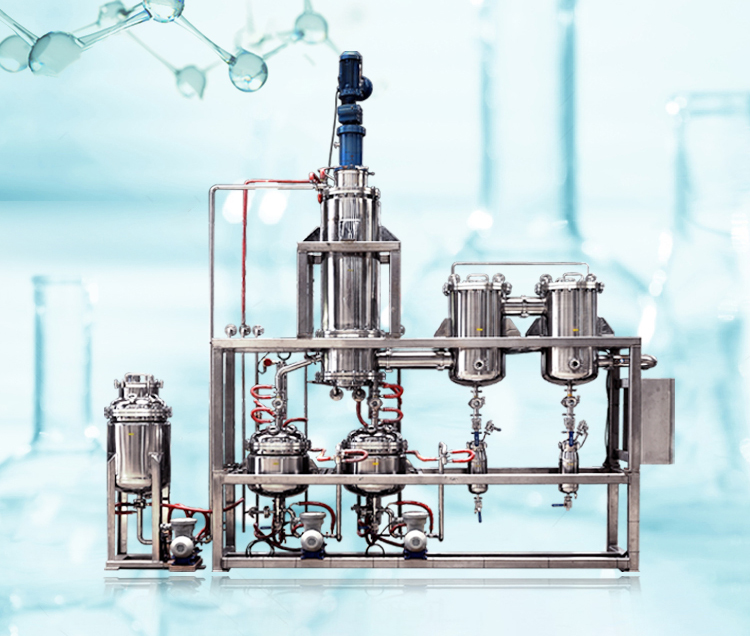 Technical Parameters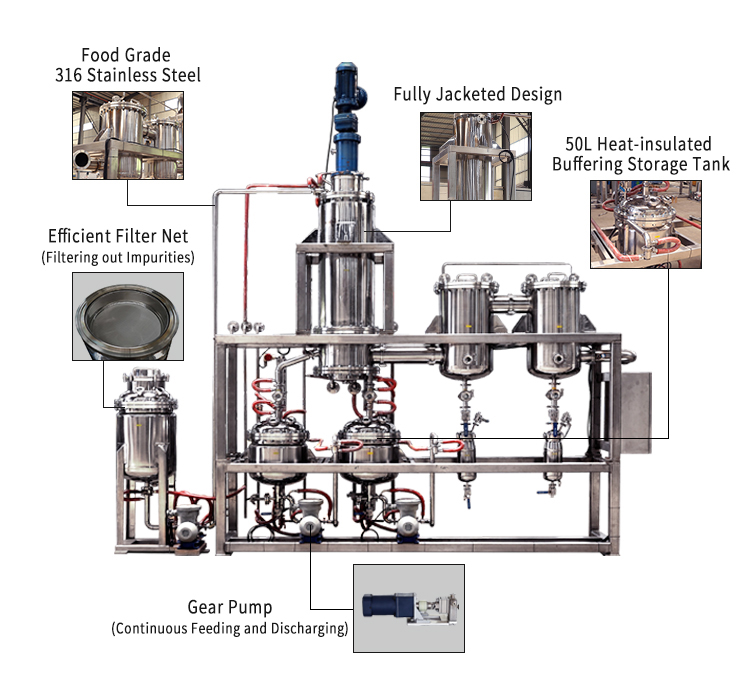 Evaporator
Part No.
SMD-10
SMD-20
SMD-50
Evaporation Area
1 ㎡
2 ㎡
5 ㎡
Material
316L
Power
1.5KW
3KW
4KW
Variable Frequency Drive
Constant Speed
Seal
Mechanical Seal
Wiper Style
Scraper
Feed Vessel
Volume
100L
100L
200L
Type
Jacketed
Material Inlet
Method
Gear Pump
Processing Rate
20L~60L/H
30L~100L/H
50L~300L/H
Power
750W Variable Frequency Drive
ColdTrap
Dewar Style (1pcs )
3㎡
3㎡
10㎡
Cooling Coil (1pcs)
3㎡
3㎡
10㎡
Receiving Vessel (2pcs)
5L
5L
5L
Distillate & Residue
Processing Rate
20L ~ 60L/H
30L ~ 100L/H
50L ~ 200L/H
Storage Tank
50L Heat insulated Buffering Storage Tank
Method
Gear Pump
Power
750W
750W
1.5KW
Variable Frequency Drive
Internal Condenser Temperature Control
Water Tank Volume
–
100L
200L
Heating Power
6KW
6KW
Heat Exchanging Area
5㎡
10㎡
Pipeline
Jacketed
Support Frame
304 Stainless Steel Pipe
Integrated Electric Cabinet
Not explosion proof
Turnkey Solution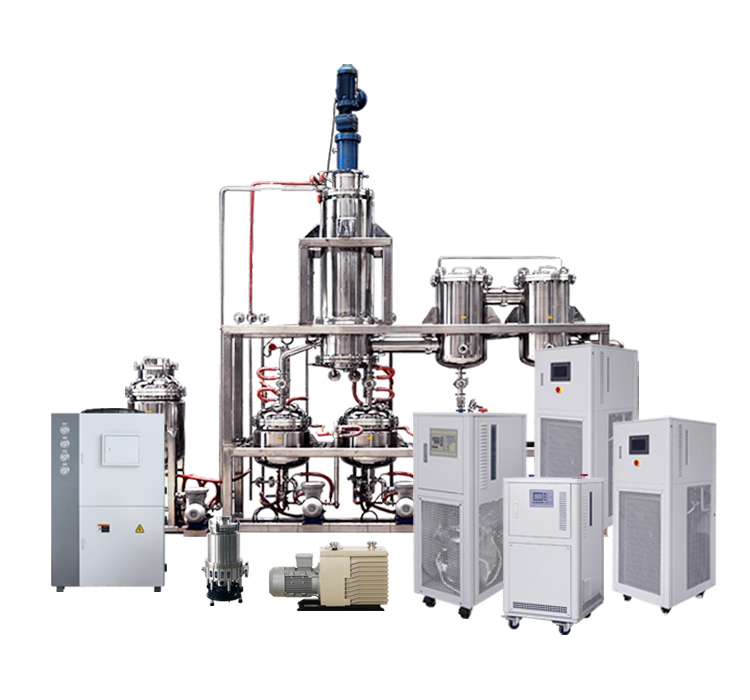 CONTACT US
Send us your enquiries and our representative will answer you accordingly.