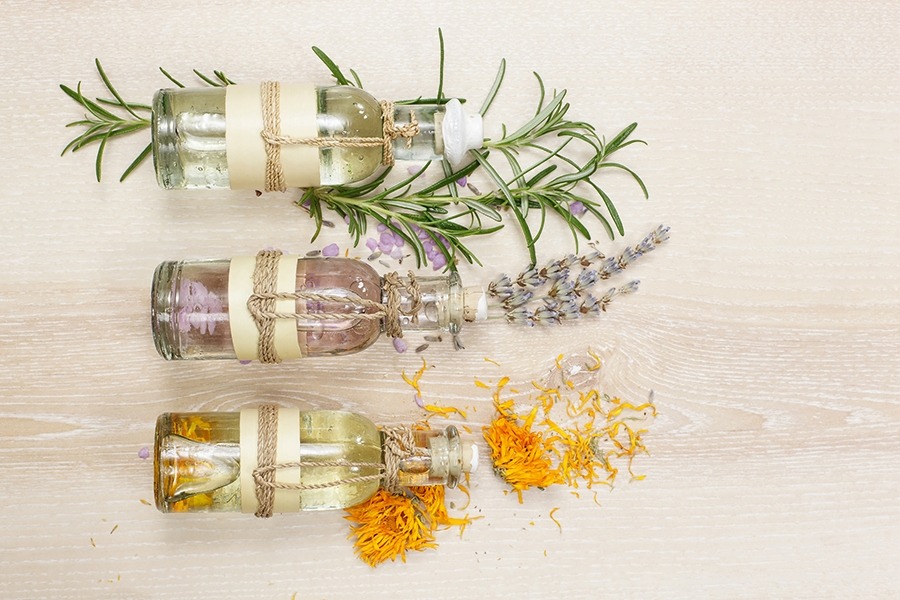 Hydrosols are extremely versatile when used externally — from facial toners and masks, to compresses or hair rinses, and body lotions or room sprays.
Some of the most commonly used fragrances are orange blossom, lavender, rose, rosemary verbenone, lemon balm, peppermint, geranium, and roman chamomile.
Spa treatments can incorporate hydrosols into all phases of facials – from steaming to toning to mixing dry facial masks, as well as baths and full body steams.
Neroli (citrus aurantium), also known as orange blossom, is a fruity-floral with uplifting hints of citrus. It has astringent properties that are beneficial for oily skin. It naturally tightens and tones skin while reducing the size of pores. It is antifungal, antibacterial, and anti-inflammatory and can be an effective treatment for acne, rosacea, and inflamed skin. Neroli can also be used for cooking. Middle Eastern cultures have used orange blossom for centuries in their sweets, sorbets and beverages. Add a few aromatic drops to an herbal tea for clients to enjoy.
Lavender (lavandula angustifolia) is a popular essential oil and may already be a part of spa or facial treatment options. Lavender oil is considered "universal" for its calming, healing, and antiseptic properties. Add a new dimension by including this floral astringent hydrosol in new ways. Lavender hydrosols are good for every skin type. It has a pH level of 4.5, which is just below neutral. It has cooling properties that help heal heat rash, sunstroke, and burns. Add lavender hydrosol directly to cotton pads as a refreshing toner or combine with chamomile to alleviate rashes. Relieve tension headaches and stress by adding it to a cold compress. Another use is to add half a teaspoon of lavender hydrosol to hot or iced tea for a refreshing zing.
Scents of orange and lavender can also be used as room aromatics or spritzers to help to reduce anxiety and improve client's mood.
For stiff muscles, aches and pains, add peppermint (mentha piperita) hydrosol to a hot or cold body compress during a massage treatment. Peppermint has many beneficial properties –internally and externally – including stimulating digestion, reducing motion sickness, treating bad breath, reducing acne, and detoxifying the liver. The aroma of peppermint has been shown to enhance memory and increase alertness.
Rose (rosa damascena) hydrosol is a gentle balancer internally and an excellent humectant for dry, mature skin. It is gentle enough to be used directly as a soothing facial spritzer or toner to reduce inflammation and redness. It can also be combined with other skin-healing hydrosols such as chamomile and lavender. For added astringent properties, add two parts witch hazel.
Instead of champagne or wine, treat clients to a fun, fizzy drink. Gently heat the preferred hydrosol over low heat and add a little bit of honey (to taste). Mix half-part hydrosol to mineral water or sparkling soda and stir it until mixed. Add ice and a fresh sprig of mint, orange, or a lemon slice as a garnish.
As with any natural or organic products, it is advisable to only purchase hydrosols from a qualified herbalist and certified organic farm or distiller. Always check for quality and know botanical names to ensure safety and efficacy.